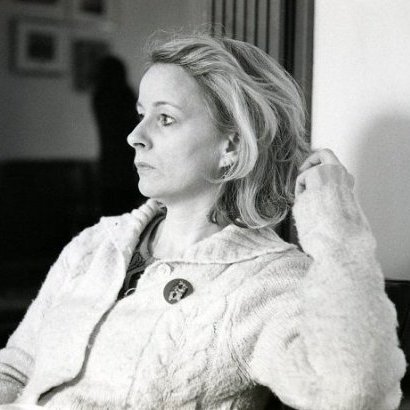 Charlotte Engel
Statement: DOC Toronto remains a cornerstone in the documentary community. In the last few years, the documentary world has seen massive changes in world of broadcasting. I have assisted DOC in foreseeing these sea changes and I have worked with the staff on their fantastic initiatives and programs. I feel it is vital to build the profile of DOC institute and in promoting their great workshops. On a personal note, being on the DOC board has been extremely enriching experience. It has keept me in touch with the amazing DOC community and they in turn have provided valuable guidance. I hope I have the opportunity to continue in supporting DOC through my position on the Toronto Board.
Bio: Charlotte Engel has worked in film and television for over 25 years. Starting out in production, she cut her teeth working on indie Canadian films like Highway 61 and The Adjuster and moved onto blockbusters like Ginger Snaps. In 2001, she joined CHUM television and over saw the development and production of television series, one off documentaries and performing arts specials for many of the CHUM channels. In 2007, CHUM was bought by CTV and Engel stayed on, continuing to commission and develop programming for Star, Bravo! and Book TV. After Bell's acquisition of CTV in 2011, they decided to concentrate more on drama and Engel departed. She set up Rock Yenta Productions Inc and developed a handful of projects. In 2012, Engel produced Carpe Diem: A Fishy Tale for the Nature of Things and co-produced Mugshot for TVO and Knowledge. She is currently executive producing Fractured Land for documentary and co-producing Puffin Patrol for CBC's The Nature of Things and My Millennial Life for TVO.
Sean Farnel
Statement: I've loved being the new blood on the DOC Board, and our rep at National. Yet, I do wish they'd stop taking my blood at meetings. I find this to be a strange requirement of being a DOC Toronto Board member. I hope that my colleagues on this esteemed body, and the DOC staff, have found my contributions to be constructive. And my blood to be pure and full of vitality. But one term isn't enough. I've barely learned everybody's names, and I'm just starting to get used to the dizziness, sometimes pleasant, that accompanies frequent blood loss. Please vote for me.
Bio: Sean Farnel is one of the world's leading curators of creative documentaries. He was the first dedicated documentary programmer for the Toronto International Film Festival, and following that he was the inaugural Director of Programming for Hot Docs, which tripled its audience during his tenure. He is currently advancing several media projects as a producer and entrepreneur, while continuing to consult with organizations and independent filmmakers on distribution, marketing, festivals and creative development.
Liz Marshall
Statement: I would be honoured to serve a third term as a board member of DOC Toronto. I am committed to our genre and industry, and to making films and pushing the envelope. I am also committed to being part of the solution. We need smart creative political films in our midst, and we need resources to ensure that our films are seen. I care about grassroots and hybrid distribution--having just completed an intensive global screenings' campaign for The Ghosts In Our Machine, and having produced a Canadian one for my last film Water On The Table, I believe in the value of filmmakers being on the front lines, engaging with audiences, speaking to the art of documentary and the issues and questions they raise in today's world. This is what I care about and what I bring to the DOC Toronto board. I would love to continue to play a role in representing our DOC Toronto community, along with the group of filmmakers on the board. It's a privilege.
Bio: Director and producer Liz Marshall is an auteur filmmaker who fuses character-driven cinematic storytelling with social and environmental justice issues. Since the 90s, she has created a body of award-winning documentaries shot around the world which illuminate a range of significant subjects, including: animal rights (The Ghosts In Our Machine); the right to water movement (Water On The Table); HIV/AIDS in sub-Saharan Africa (Stephen Lewis Foundation trilogy); sweatshop labour (Inside Your Threads); corporate-globalization (The Globalization of Protest); the rights of girls and women (Girls of Latitude); censorship affecting writers and journalists (Voices of Dissent); and war-affected children (Musicians in the WarZone). www.lizmars.com.
Frances McKinnon
Statement: I'm glad to have the opportunity to serve on the DOC Toronto Board of Directors and participate in the shaping of future policies, workshops and direction for such a valuable organisation. Toronto's independent documentary filmmaking talent pool continues to be of the highest calibre and is a source of huge pride to people within and outside of the industry. However, without mindful stewardship of what we have and careful monitoring of changes to industry standards and policies which directly impact this profession there is a very real risk of further, dramatic erosion to what we have. Look no further than other Canadian provinces for evidence of this happening to a crippling degree. I hope to engage with the many brilliant filmmakers to strengthen our presence and protect our industry from such erosion, and advocate for filmmakers. Like others, I have benefited from DOC and feel strongly that we must contribute to preserve what we care about. Having a cohesive, informed and engaged membership will grow our industry and enable us to continue to tell our stories in the best way possible.
Bio: Frances MacKinnon is a multi-award winning documentary and TV producer, director and writer, and owner of Lightscope Pictures. She began her career in journalism, working as a reporter, anchor and producer, before transitioning into producing documentary television in the late 1990s. For ten years she served as a Staff Producer, Director and Writer at Discovery Channel Canada producing one-hour features (Japan: One Year Later, Tech Invasion) and dozens of hours of documentary television. She's won several awards for her work including Platinum, Gold and Silver at Worldfest Houston, The New York Television and Film Awards, and was nominated for a Gemini for short doc on the Sydney Tar Ponds revitalization. From 2008-2011 Frances ran the non-profit Youth Films International, mentoring and teaching emerging filmmakers on the creative, technical and ethical balance of documentary film making. She sits on Sheridan College Media Arts Program Advisory Committee. She continues to work on a wide variety of projects.

Michael McNamara
Statement:I am pleased to be standing for re-election to the Toronto Chapter Board of Directors. I have been a member of both the Toronto and National Boards and I have never witnessed more difficult and challenging times for our organization. This is because the art and business of documentary making has never been more challenged than right now. DOC Toronto has responded by maintaining a strong membership base – thanks especially to offering excellent professional development initiatives like the DOC Institute and through the establishment of the Doc Institute Awards. A great deal of the credit for this is due to my fellow board members and our hard-working staff. But there is more to do, and as our National organization works to navigate it's way forward, Toronto must continue to look after the needs and interests of our culture and business here in Ontario. As a former member of the DOC National board, I intend to help our chapter pursue and promote our unique concerns and ensure we keep a vital place at the table.
Bio: Michael McNamara is an independent documentary filmmaker based in Toronto. Together with his partner Judy Holm he runs Markham Street Films Inc., producing such titles as The F Word – Who Wants to Be a Feminist, Lights Out!, The Cholesterol Question, Driven by Vision, Fanboy Confessional and Acquainted With the Night.
A multi Gemini award nominee and winner, his films have played TIFF, Hot Docs and other festivals, and have been broadcast internationally. He has served on both the Toronto and National boards of DOC and is on the executive board of the Hot Docs International Film Festival and on the editorial board of POV Magazine. He was honored as the 2014 recipient of the Don Haig Award, which recognizes creative vision and entrepreneurship as well as a track record for nurturing emerging Canadian filmmakers.
He is presently directing the feature length documentary The Magic Bullet for Super Channel and is co-producing a new version of the Hot Docs-premiered documentary David & Me.
Kalli Paakspuu
Statement: A digital revolution is rapidly transforming how we work and do business in the broadcast industry. The landscape for documentary makers has changed so rapidly that doc makers need now to know and work with their publics from early development. I would be interested in building a monthly of bi-monthly DOC social series where doc makers can support each other through the various trials and challenges of working in an industry where there is no longer a predictable success path. Many of the key festivals now require submission fees and it is commonplace for professional works to be programmed alongside amateur. I would support initiatives for documentary makers to develop audiences throughout various stages. We do after all bring our audiences to the broadcasters and need to be recognized for this contribution through our broadcast sales. As an organization we can work with our members to build their audiences. We can create initiatives for peers to present their films as our social/society event with a post-screening discussion. A call for work and proposals could include work-in-progress documentaries and a doc night special that features one of our members. This would serve both as a social function and networking opportunity to build future audiences. A development from this could be a pairing up with a pay-per-view website for our documentaries or setting up partnerships with educational institutes and their on-line library systems. It would be especially productive to build stronger partnerships with Bravo, Documentary Channel, Blue Ant, Shaw, Rogers and TVO.
Bio: Kalli Paakspuu has produced new media, documentaries and dramatic short films for more than twenty years. This year she earned a doctorate in Humanities, Social Sciences and Social Justice in Education at the University of Toronto. In 2013 she partnered as producer with Maureen Bradley and developed "Two For One" awarded Telefilm Microbudget Funding. Currently the Programme Director of EstDocs Film Festival in Toronto, she is researching photography's recuperative role in the intergenerational trauma of war, displacement and loss. She is developing the following films: 1921 – The War Against Music, a feature documentary about two Ukrainian composers; a theatrical feature, Musical Pawns; and Moment of Contact, an on-line interactive documentary developed through a DocSHIFT Incubator. Her films have been exhibited at Hot Docs, IDFA, Chicago International Film Festival and toured four continents before broadcasts on CBC, PBS, TVOntario Knowledge Network, Bravo and Access. She is part-time faculty at York University.
Nicholas de Pencier
Statement: We are still far from bridging the disconnect between audience demand and viable funding for documentary if we don't want the genre we love to be relegated to a hobby or a pastime. And yet there are signs of hope - new winds blowing at the CBC, Pay TV channels increasing their support for our genre, and electronic distribution that might someday return money to the filmmakers. It's in this ever-changing arena that I am standing for re-election to the board of DOC Toronto. We have an engaged and energetic group of dedicated working professionals who I am proud to serve alongside drawing on my twenty years of experience with all sizes and budgets of documentaries. Given my familiarity with theatrical docs and all-rights distribution deals in Canada and internationally, and at the same time my Doctor Mike Evans YouTube channel that has over 10 million hits, I remain persuaded that even as we embrace mobile content, we should be considering big screens and all the sizes in between for our films. I still believe that if there is no one medium that will emerge as a saviour, we need to embrace as many distribution portals as we can, in as many different places as we can in order to make our projects viable. My hope is that my experience will continue to be of value to the DOC board as we work to try and achieve this and address the myriad other challenges we face as a community.
Bio: Nicholas de Pencier is a director, producer, and director of photography specializing in documentary for the past 20 years. He is President of Mercury Films. As both producer and DOP his credits include Let It Come Down: The Life of Paul Bowles, The Holier It Gets, The True Meaning of Pictures, Hockey Nomad. He also co-directed, produced and photographed for TVOntario a series of 40 short profiles on artists who have received Ontario Arts Council grants over the past 40 years.
He produced Manufactured Landscapes and was producer and DOP on Act of God. Among ongoing DOP work for docs and doc series on CBC, History, Discovery, National Geographic and many others, he recently shot the documentary adaptation of Payback, Margaret Atwood's Massey Lecture on debt, and produced and shot the award-winning doc Watermark.
Nadine Pequeneza
Statement: When I started making documentaries in 1998, virtually all of Canada's television networks and channels had documentary strands. I was lucky to start my career under the tutelage of veteran documentary filmmakers and journalists who generously imparted not only a wealth of knowledge and skills, but also the moral and social responsibility that comes with filmmaking. With the current dominance of reality television, it is now very difficult for emerging filmmakers to work and learn in an environment that supports innovative and creative documentary storytelling. Through its many workshops, programs and now the DOC Institute, DOC Toronto has worked hard to fill this void. If our documentary filmmaking community is to survive as a viable industry, these educational opportunities are essential. I have been a student in DOC Toronto's Masters Classes and a teacher in Professional Development Workshops. I am currently the only Canadian participant in an 18-month Engagement Lab run by the Fledgling Fund, a U.S. foundation committed to using film for social impact. Now more than ever, we need to learn from each other to continue and also adapt the craft and business of documentary production. Over the past several years I have been exploring collaborative relationships with the Third Sector – non-profits and foundations, as well as private investors. As a DOC Toronto board member I would bring this vision and experience to assist DOC in creating growth and advancement opportunities for our members.
Bio: Nadine Pequeneza is an award-winning Producer, Director and Writer best known for her observational films offering unique access to character-driven stories about social justice. With over 15 years international experience, she has multiple awards to her credit including; a Gold and Silver Hugo from the Chicago International Film Festival, a Golden Sheaf from the Yorkton Film Festival, and a Gold Panda from the Sichuan Festival in China. Nadine is a 4-time Canada Screen Award nominee in both directing and writing categories. Her work has broadcast in more than 50 countries on networks such as: CBC, PBS, A&E, Discovery Channel International, Global Television, History Television, and National Geographic.
After several vital Canadian programs for filmmakers closed their doors, we felt something was missing for the community and for our careers. We've stepped up to fill the gap by strengthening our hub and expanding and formalizing our professional development offering: the DOC Institute.
The DOC Institute is a one-stop shop for non-fiction professionals to learn business skills, hone their craft and make industry connections. See our programs and get involved at docinstitute.com